GHANA ACADEMY ELECTS PRESIDENT
ICTP Scientific Council member Francis K.A. Allotey is new leader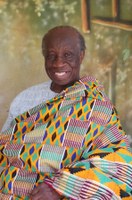 Francis K.A. Allotey
Francis K.A. Allotey, a member of ICTP's Scientific Council, has been elected as president of the Ghana Academy of Arts and Sciences.

Allotey, a former pro-vice chancellor of Kwame Nkrumah University of Science and Technology, Ghana, and member of the ICTP Scientific Council since 1996, is an internationally renowned physicist and mathematician, and one of Africa's most eminent scientists.

Science in Ghana faces a number of challenges, according to Allotey. "Ghana has a shortage of trained mathematicians and scientists, and inadequate funding for science, technology and innovation," he said. He expressed dismay at the low number of students studying science in Ghana. "Talented students are shunning the study of science and mathematics; they prefer law, finance, medicine and information technology," he explained. Other challenges include a lack of research equipment, a poor level of mathematics and science education in junior and senior high schools, and low public awareness of the importance of science and technology for socio-economic development.

Allotey said the Ghana Academy of Arts and Sciences hopes to address the latter problem by establishing, with the Ghana Journalists Association, a 'Best Science Report Award'. "This will encourage many more journalists to report on science, and then enhance public understanding of science," he said. He believes that ICTP can also play a role in addresses Ghana's challenges: "We would want ICTP to help in science capacity building," said Allotey.
Document Actions