News

Highlights
ICTP scientific council member honoured
Francis Kofi Ampenyin Allotey receives honorary IOP fellowship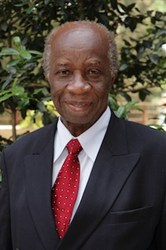 27/06/2012 - Trieste
ICTP scientific council member Francis Kofi Ampenyin Allotey has received an honorary fellowship from the Institute of Physics (IOP). The fellowship recognises his service to physics and IOP, and in particular his role in promoting physics in Africa.
Ghanian national Allotey has been a member of the ICTP Scientific Council since 1996 and is an internationally respected mathematical physicist. He is credited with establishing the "Allotey Formalism" based on his research on soft x-ray spectroscopy.
Allotey began his career in Ghana teaching in the Department of Mathematics at Kwame Nkrumah University of Science and Technology (KNUST); he went on to become Head of Department, founder and first Director of the KNUST Computer Centre, Dean of the Faculty of Science and Pro-Vice Chancellor of the University.
A key figure in the African science scene, Allotey is currently President of the Ghana Institute of Physics, President of Ghana Academy of Arts and Sciences, and was the founding President of the African Physical Society.
For more details visit the IOP Website.